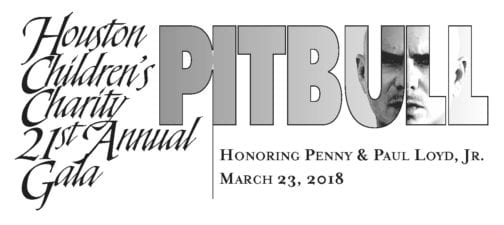 This is the one you DON'T want to miss!!!
Preparations are underway to make this year's Houston Children's Charity Gala the very best ever!  We promise you an evening of unparalleled excitement and entertainment.
 Our 21st Annual Gala featuring globally successful Grammy Award winning, musician and performer, PITBULL who will ROCK THE HOUSE at Houston's newest premier luxury hotel, The Post Oak on Friday, March 23, 2018.
We are extremely proud to honor two of our most heartfelt supporters, Penny & Paul Loyd, Jr. Together, their love and dedication to Houston Children's Charity has been a winning combination not only for our special children here in Houston, but for children across the globe. From goodwill mission trips in American Samoa to endowing educational buildings and housing on college campuses to financial assistance to numerous non-profits throughout the Houston area – the Loyd's generosity knows no bounds. Their endless desire to care for under-served children continues to change countless lives for the better.
We will also pay special tribute to our "Title Sponsors," Maria Moncada Alaoui – BMW of West Houston and Tommy Kuranoff – Momentum BMW Southwest. We applaud them for their unprecedented support for the past ten years and their heartfelt generosity to Houston's special children.    
Houston Children's Charity is dedicated to improving the quality of life for our city's underprivileged, abused, and disabled children, who might otherwise be left behind. Your support is more critical now than ever before and we hope you'll join us on March 23rd in our new venue, with a renewed hope for our children and their future.
On behalf of the special children we serve, we thank you for your consideration.
To purchase tickets, Call 713-524-2878 or Email laura@houstonchildrenscharity.org
Please make checks payable to Houston Children's Charity; 230 Westcott, Suite 202, Houston, TX 77007