When the First Bell Rings…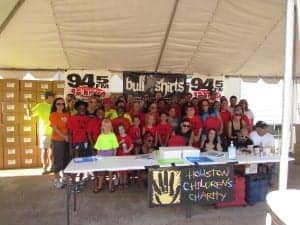 "Education is the most powerful weapon which you can use to change the world."
    Nelson Mandela
On Saturday August 16, 2014 Houston Children's Charity hosted its Annual "Back 2 School" backpack distribution for Houston area families and agencies.  Over 4100 underprivileged children were handed a backpack and supplies to start this 2014-2015 school year on the right foot.
For a 5th year in a row, HCC teamed up with The Rod Ryan Show from 94.5 the Buzz and BullShirts.  Their hard work has made this event a success and we were beyond LUCKY to have them as our gracious sponsors. Their amazing efforts set NEW records, in 2014, as we were able to distribute backpacks with age appropriate supplies to over 900 deserving & approved families that applied for this program.
Other sponsor donations by eSigns.com, ColorPaq, Gillman Auto Group, WhatABurger, Chili's Bar & Grill, WhichWich, Prime Way Federal Credit Union, Twin Peaks Restaurants, Office Depot Foundation, HAHU, Macquarie Group Foundation, Cronus Technology Inc., EDP Renewals, Bury Inc., F-11 Heart Failure Floor from Methodist Hospital, Albemarle Foundation "Growing The Good" Campaign and Abigail Smith helped make this event unforgettable for those deserving children.  Book donations by Robert Schultz and Vanessa Streavel put a book into the hands of every child regardless of their circumstances.  Upon receiving a backpack and book, families also collected a "goodie bag" from the dental offices of Charles E. Dyer, IV.
We have some of the best volunteers in the city of Houston.  We could not have distributed all of the backpacks, supply kits and books without the assistance of these GREAT volunteers.  THANK YOU for your assistance at the 2014 distribution.
HCC would like to thank everyone for being a part of this event and allowing us to bring smiles to kid's faces year after year.