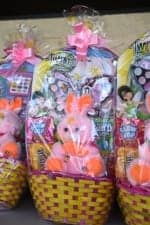 On behalf of the special children we serve, we graciously would like to THANK ALL OF YOU that generously donated to our Easter Basket Campaign. We could not have reached our goal without each of your support!  With your donation every child is able to leave our Annual Easter Party with a filled Easter Basket!


Easter Baskets Campaign Doantions: 
Leticia Arriola
Kirk & Trudy Broiles
Jeanne Dulinski
Sharlyn Francis
Sandy Gartman
Mary Gracely
Candi Harrison
David Helffrich
Romonica Holmes
IsysSs
Robert (Bobby) Jones
"JUGS FOR JUGS"
Ivan Langford
Carol Linn
Deborah Ogle
Sai Pasupuleti
PrimeWay Federal Credit Union
Carol Sawyer
Ahmad Shafaghi
Judy Slocumb-Farrell
Sue Smith
Sandy Sorenson
Billie Stigliano
Phil Teeth
Dawn Tholken
This campaign ran throughout the month of February. Our goal was to raise enough funds to purchase a basket for over 350 children. Your support was amazing!