BMW Donates $20,000 to HCC!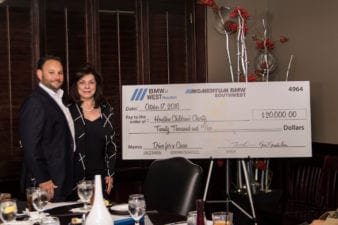 On Monday, October 17, Tommy Kuranoff, with Momentum BMW Southwest presented a $20,000 check  toward Houston Children's Charity's "A Better Night's Sleep" program. Both Tommy and Maria Moncada-Alaoui with BMW of West Houston, raised money through BMW's "Drive for a Cause" campaign.
Each dealership had a "bed display" set up for a month in their showrooms for customers to get a visual of the cause. By donating $50.00 for every test drive customers took during the campaign, both dealerships met their goal of raising $10,000 each!
BMW of West Houston and Momentum BMW Southwest have been proud title sponsors of HCC's Annual Gala for the last 9 years. Their unwavering support to HCC's mission and the special children they serve have helped countless families in the Houston Area.
THANK YOU!