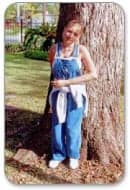 In the summer of 1999, young Michelle Alcorn's life was forever changed when a bout with meningococcal septic shock resulted in the tragic loss of both hands and feet. Aside from the severe emotional trauma from such a loss, Michelle was unable to move a muscle without suffering excruciating agony during her ordeal with the rare, rapidly spreading bacterial infection. Through TIRR's Amputee Program, Executive Director Laura Ward and the HCC Board of Directors learned of Michelle's need for artificial hands and feet, immediately knowing they had to help.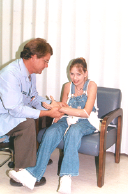 In 2001, Houston Children's Charity introduced the "Limbs for Life" program. This platform provides myoelectric and body powered prosthetic devices at no charge to families who have had a child tragically suffered the loss of limbs. Fitting these children with prosthetic limbs as soon as possible after traumatic amputations or injuries helps them to reclaim their lives.
Michelle Alcorn was the first beneficiary of this program.