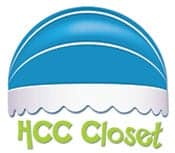 Ever since Houston Children's Charity opened its closet doors, it has been received with GREAT success. A unique and special feature of our "HCC Closet" remains that all items donated are provided at absolutely no cost to our clients.  Appointments are made giving clients an opportunity to "shop with dignity" in the boutique-styled rooms while selecting items for each and every member of their family. Over 100 families are able to shop each month.
Many hours of hard work are put in by our dedicated volunteers.  From restocking to shopping our volunteers are eager to assist the families.  Now that you know what's in our "HCC Closet," we ask you… "What is in your closet?"

One comment
The comments are closed.