Houston Children's Charity 25th Annual Gala presents
Pat Benatar & Neil Giraldo
YOU HIT THE JACKPOT - 2 couples will fly on the Executive Golden Nugget Helicopter to the Golden Nugget in Lake Charles. Experience the luxurious VIP suites and exquisite dining at the restaurants on property. Promotional Chips provided for each couple.
ESCAPE TO MEXICO - Up to 6 guests will enjoy a 7-night get-a-way in San Miguel de Allende, a city known for its baroque Spanish architecture, thriving art scene, and cultural festivals.
PIXELATED FORMS SERIES - An original sculpture designed by an Award-Winning International artist and sculptor, Gil Bruvel.
HOME RUNS & STRIKES - Talk baseball all night during a Dinner Party for 20 with Houston Astros Hall of Famer Jeff Bagwell and 7-time Cy Young Winner Roger Clemens (and their wives) in the privacy of your own home. Menu prepared by Barbara McKnight, CULINAIRE Inspired Cuisine & Events. Autographed memorabilia.
ROAD TRIP WITH THE ROCKETS - 4 Lucky Fans will travel with the Houston Rockets on a chartered plane to a mutually agreeable away game. Deluxe rooms for a night in team hotel. Lunch with team and coaches. SEATS TO BE SOLD INDIVIDUALLY!
WHISKEY ME AWAY - Up to 10 guests will get a VIP Bourbon Experience & Overnight Stay at Buffalo Trace Distillery's Staff Lodge. 5 bottles from the Antique collection.
ARGENTINA DOVE HUNT - 4 Hunters will experience the best dove hunting in Jesus Maria, Cordoba, Argentina. 3-day hunting/4-night accommodations at Jesus Maria Resort. Meals included. Vehicles and ground transportation for every hunt.
SAILS PITCH - Up to 6 fishermen will experience 2 nights aboard the Sails Pitch. Offshore Fishing Trip 100 miles to the Oil Rigs on a tournament-winning 45-foot Cabo designed for the Gulf of Mexico seas!
RUNWAY READY - Be the envy of your friends, while wearing this trendy fur from Sakowitz Furs.
DOUBLE PLAY - Enjoy a game with 4 Diamond Club tickets behind home plate at Minute Maid Park. PLUS... watch from the 3rd baseline Budweiser Suite for 16 with food & beverages. Autographed memorabilia.
FINAL FOUR. WHO IS DANCING? - Head to Las Vegas to watch the SWEET 16 & ELITE 8 games at the T-Mobile Arena, courtesy of Smart Financial Credit Union. College basketball fans will be watching the SEMI-FINALS & CHAMPIONSHIP GAME with 4 Deluxe Tickets at NRG Stadium in 2023, courtesy of Your Friends at Budweiser.
A TIMELESS PIECE - A vintage 1960's 18k Gold & Fine Carved Coral Buddha Head stunning piece can be worn as a pendant or brooch from Wayne Smith Jewels.
ALL ABOARD - Up to 15 guests will enjoy a magical night on the Polar Express™.
IT ALL HAPPENS IN DOWNTOWN HOUSTON - 2 Guests will enjoy a 2-night-stay at the luxurious 5-star Four Seasons Hotel and dine at Toro Toro. Take in your first of three performances from the Grammy Award-winning Houston Symphony at Jones Hall.
CREATE YOUR OWN FASHION STORY A TOOTSIES surprise especially for you!
HIS & HER ELECTRIC BIKES - A pair of sporty, matte black BMW Urban Hybrid E-bikes is ideal for daily city commuting. Do not let the slender frame fool you; it can also ride on  light gravel as well. 3-watt-hour rechargeable battery pack and hydraulic disc brakes.
A SEAT WITH A VIEW - Participate in a patrol flight ride along with the Houston Police Department's Air Support Division. Experience police work from 600 feet in the air!
ULTIMATE HOUSTONIAN RETREAT - During your stay at The Houstonian Hotel, Club & Spa, 2 guests will experience the newly renovated Guest Rooms. Dining credit at TRIBUTE, Trellis Spa Escape Packages, complimentary access to the Houstonian Club, Trellis Soaking Pools & Garden, and self-parking.
RING OF PASSION - A beautiful amethyst cocktail ring set in 18kt yellw gold selected by Valobra Jewelry!
COKE IS IT! - 2 Retro Coca-Cola beverage coolers.
ON YOUR OWN TIME - A men's Franck Muller watch from I W Marks Jewelers.
THE PERFECT ACCESSORY - A designer Valentino handbag and cosmetic basket from SAKS FIFTH AVENUE.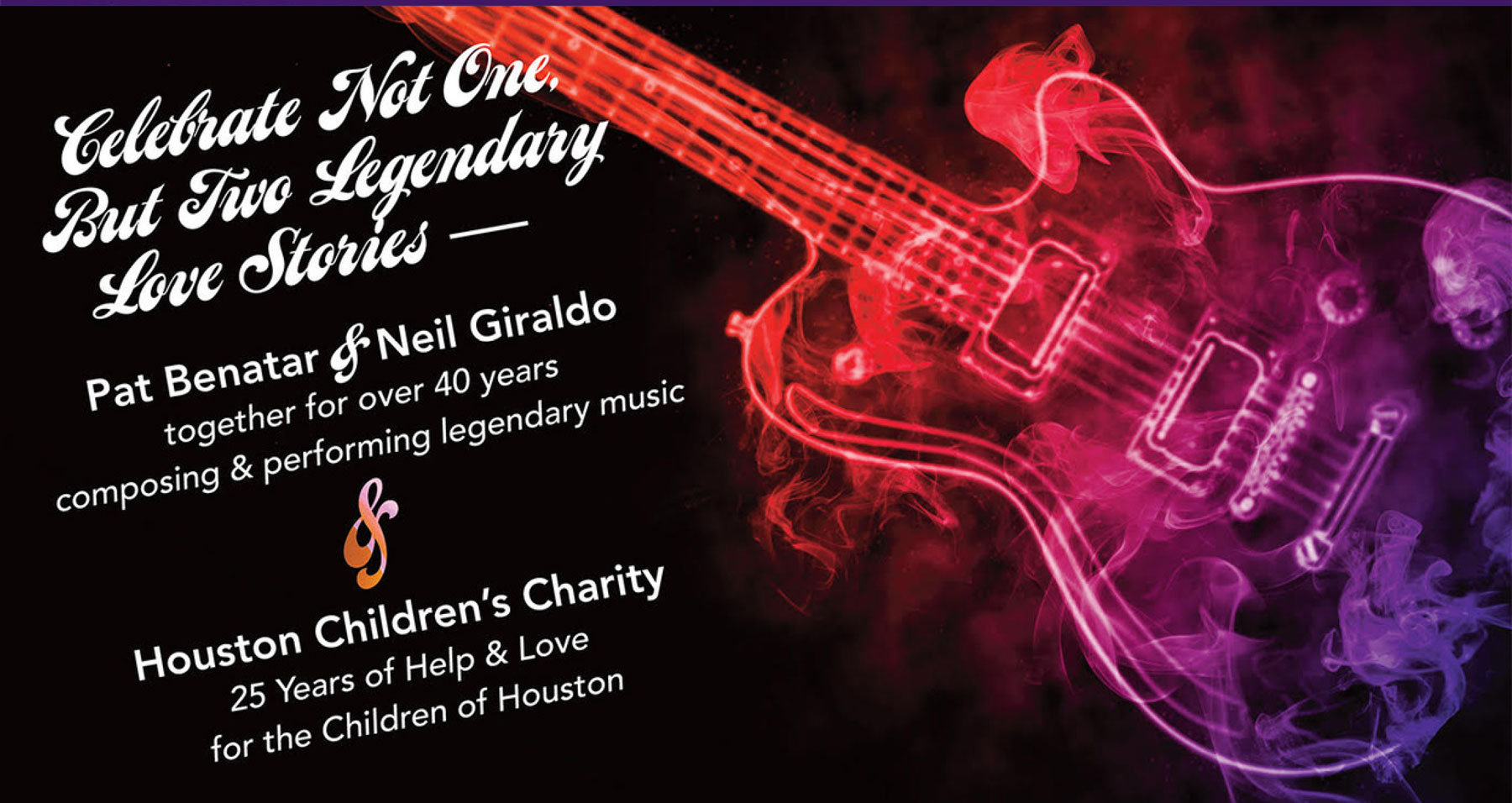 THE BOARD OF DIRECTORS OF
Houston Children's Charity
Tilman J. Fertitta
Gary D. Becker
Laura S. Ward
Grant W. Guthrie
John B. Johnson
Edna Meyer-Nelson
Robert E. Ogle
Penny Loyd
David B. Atkins
Dr. Susan M. Blaney
Daniel R. D'Armond
Brandon Dewan
Jana Fant
Ernest Hunter II
Melissa H. Juneau
Gary D. Justice
Bradley H. Marks
DeeDee H. Marsh
Maria Moncada Alaoui
Dr. Lois J. Moore
Robert R. Pierce
Dr. Jorge D. Salazar
Morris Smith, MBA
Kristina H. Somerville
Robin L. Young-Ellis
Donald J. Henderson
Paul B. Loyd, Jr.
John L. Nau, III
Michael F. Rogers
David H. Ward
CORDIALLY INVITES YOU TO THE
Pat Benatar & Neil Giraldo
BMW of West Houston & Momentum BMW Southwest
REVEREND MARY GRACELY, One Spirit Interfaith Community
Friday, October 14, 2022
HALF PAST SIX IN THE EVENING
THE POST OAK HOTEL AT UPTOWN HOUSTON
1600 WEST LOOP SOUTH | HOUSTON, TEXAS
GLAM ROCK & ROLL COCKTAIL
Arca Continental Coca-Cola Southwest Beverages
The Astros Foundation
B&B Butchers & Restaurant
Rachel & Jeff Bagwell
Karol & Paul Barnhart
Brand Management Professionals
Gil Bruvel / Gil Bruvel Studios
Buffalo Trace Charities
Frances & Tony Buzbee
Steven Chen
Classic Insurance
Debbie & Roger Clemens
Shar & David Levin / Cloudspace USA
Carlos Correa
Drs. Lisa & Stan Duchman
Jan Duncan
Elizabeth Anthony
Chief Troy Finner
Richard Flowers / The Events Co.
Patsy Fourticq
Steven W. Fowler
Martin Fox
Keith Goldston
Rachael Gordon
Leo Hamel
Paula Harris
Jim Hart
Elizabeth & Grant Harvey
Shari Hawkins
Mindy & Jeff Hildebrand
Shelby Hodge / Paper City Magazine
Lindsay & Rand Holstead
Houston First Corporation
Houston Police Foundation
Houston Rockets
Houston Symphony
The Houstonian Hotel, Club & Spa
I W Marks Jewelers
iTouchDiamonds
James T. Jackson, Jr.
Christine & Steve Johnson
John B. Johnson
Dr. Sippi Khurana & Ajay Khurana
Stacey King / Pointer Outfitters
James Kramer
Tommy Kuranoff / Momentum BMW Southwest
Landry;s, Inc.
Stefan Langhart
LUCHO Houston
Barbara McKnight / CULINAIRE Inspired Cuisine & Events
Dana & Taft McWhorter / Taft McWhorter Art
Monty Meave
Youval Meicler
Maria Moncada Alaoui / BMW of West Houston
Javier Munoz
Judy Nichols
Patrick Henry Creative Promotions, Inc.
Bob Gonzales / RAG Printing
Dr. Mary Riley Piro
Joseph Rocchi / Accutek
Rod Ryan / 94.5 The Buzz
Sakowitz Furs
Saks Fifth Avenue
Carol Sawyer
Melissa & Doug Schnitzer
Tom Segesta / Four Seasons Hotel Houston
Silver Eagle Distributors Houston, LLC
Katya Solyst
Vanessa Streavel / Maddy's Annual Children Book Drive
Scott Tarwater
Texas Mattress Makers
Tenenbaum Jewelers
The Tilman Fertitta Family
Sharon Tooley / Sharon Tooley Design
TOOTSIES
United Access
US Marina Corps ~
1st Battalion
23rd Marine Regiment, 4th Marina Division
Nancy & Franco Valobra / Valobra Master Jewelers
Wayne Smith Jewels
Whataburger
Sheridan & John Eddie Williams
Pamela & Jack Wright / Wright Pawn & Jewelry Co., Inc.
Zadok Jewelers
Sherri Zucker