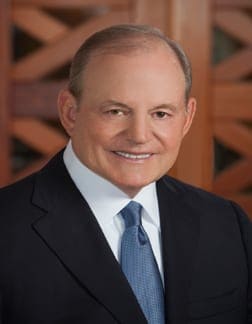 Paul B. Loyd, Jr. was formerly Chairman & CEO of R&B Falcon Corporation the world's largest and most diversified offshore drilling company. In 2001, R&B Falcon Corporation merged with Transocean Sedco Forex. At that time, Mr. Loyd retired as Chairman and joined the Board of the new company.  He currently is a principal and manager of a Houston based energy hedge fund.
He formerly served on the Board of Transocean, Inc., Carrizo Oil & Gas, Inc., and was on the Board of Enterprise Oil, plc a London Stock Exchange-listed independent oil and gas company until its sale to Shell Oil Company in 2002. He was also formerly a director of Vetco, International, a privately owned oilfield services company until its sale to General Electric in 2007.
Mr. Loyd also serves on the Board of Trustees of Southern Methodist University and is Chairman of its Athletic Committee. He serves on the Executive Board of the Cox School of Business and on the Board of Houston Children's Charity.  Mr. Loyd graduated from Southern Methodist University with a Bachelor of Business Administration in Economics and was a captain of the football team. In 2012, Mr. Loyd was named a SMU Distinguished Alumni, the highest and most prestigious award the University can bestow upon its alumni.  He received his Masters of Business Administration degree from the Harvard Graduate School of Business where he earned honors.
Mr. Loyd resides in Houston, Texas. He is married to Penny Requa Loyd. They have five children and two grandchildren.