HCC's Laura Ward Recognized in "Women Making A Difference" Segment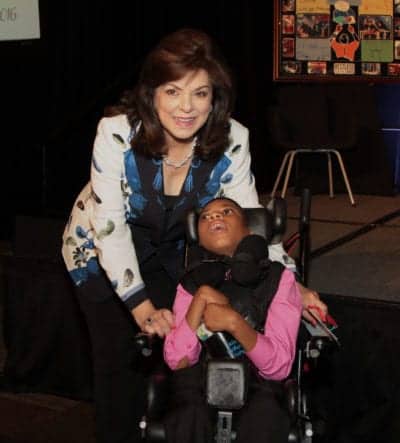 KPRC news anchor, Sara Donchey, stopped by the HCC office and warehouse on Thursday, April 28 to interview HCC CEO, President & Executive Director, Laura Ward, for a series about women making a difference in Houston. The segment features an interview with Laura and two families who were both impacted by HCC programs.
View the full segment here.
Caring for children is part of Laura Ward's DNA. She grew up in a large family in Louisiana, and was raised to always look for ways to help others.
"Being the second of nine (children), I knew how to take care of children by the time I was 10," Laura said.
She fondly remembered her parents going around town and performing random acts of kindness for neighbors and friends.
Now a longtime Houstonian, Laura harnessed her passion for helping others and helped found Houston Children's Charity in 1996. She has been spending her time finding ways to make kids' lives better ever since.
"We try to address the worthwhile needs and the urgent needs of children that go unaddressed every day," she explained.
Those needs vary widely. Houston Children's Charity has begun a number of initiatives to help local children, including its "Chariots for Children" program, which has provided wheelchair-accessible vehicles to dozens of local families.
It's also awarded college scholarships, purchased prosthetic limbs for children after amputations or injuries, donated clothing and furniture, and assisted children undergoing cancer treatment at Texas Children's Cancer Center.
"Children have taught me to listen more. And I listen. I try to be a good listener, where I used to be just a pretty good talker."