How to Give Back this Holiday Season
The holiday season can be a magical time but it can also be a very difficult time of year for families in need. As you plan your own holiday celebrations this year, consider ways your family can spread Christmas joy. You can donate your time or money to ensure underprivileged children have a Merry Christmas this year!
Starting December 18th through the 23rd, partnered with Toys for Tots and Houston First, we will transform a hall inside the George R. Brown Convention Center into Houston Children's Charity's Toy Store. Approved families will be invited to shop free of charge for their children. This program alone serves approximately 20,000 children delivering 80,000 toys. This can't be done without the giving spirit of volunteers and donors... so how can you help?
1. Volunteer!
Volunteering is a selfless act that will help transform the lives of many people over the holiday season. You can sign up for our Christmas Toy Distribution to help sort and stock toys, help families shop, and assist at check out. Volunteers must register on our website and be 15 years of age or older. For more information or to sign up, click here.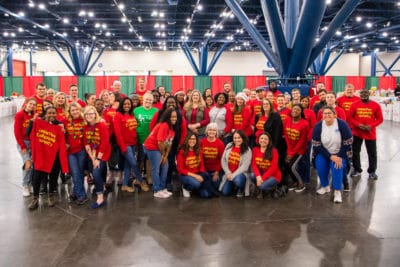 2. Donate, donate, donate!
Toys for Tots provide the majority of the toys for the children but we need help securing enough teen gifts! While Toys for Tots provides toys for children up to the age of 13, we need to provide gifts for the teens as we serve up to age 18. For a list of suggested items, click here.
Donate Christmas wrapping paper! Our goal is to give each family we serve a roll of wrapping paper (approximately 5,000).
If you can't decide what to give, we always accept monetary donations. This allows us to purchase what is necessary to make our toy distribution a success.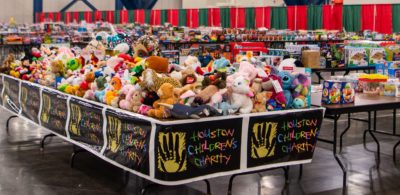 Because of your generosity, gifts, and time, thousands of struggling families can receive gifts for their children who otherwise could not afford them. If you have any questions, please call our office at (713) 524-2878 or email hcc@houstonchildrenscharity.net. We kindly ask that all new, unwrapped gifts and wrapping paper be donated at the George R. Brown Convention Center December 18th - 20th.
Happy Holidays!
- The HCC Board of Directors and Staff