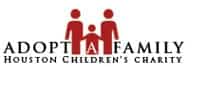 Adopt-A-Family Sponsor Registration for 2019 opens on October 1st!
2019 ADOPT A FAMILY SPONSOR REGISTRATION
Adopt-A-Family Program Information
The enthusiasm and support for this program continues to surpass previous years. In October, generous people from around the greater Houston area begin contacting Houston Children's Charity to help make a less fortunate family's holiday brighter.
In 2018, over 425 individuals/corporate sponsors eager to participate in the program made this another successful year. Thanks to their generosity, over 1,300 children were blessed with Christmas joy. The families involved with our Christmas programs were touched with a giving spirit and toys that bring those special memories that every child deserves.
Each adopting sponsor purchased toys, housewares, clothing and/or other items needed by their individual family. Many families have greater needs for their little ones than simply toys. Because of our sponsor's giving hearts…Christmas miracles do happen!!!
CHRISTMAS MIRACLE STORIES!!!
The Adopt-A-Family 
Program was a success. The employees at Calvetti Ferguson really enjoyed being able to provide the families with a special Christmas.
This Holiday Season was the first year that Calvetti Ferguson had the pleasure of participating in the Adopt-A-Family Program through The Houston Children's Charity. Calvetti Ferguson adopted two families located near Downtown Houston that included a single family with two boys and a multi-family with two girls. Once we were introduced to the families, we wasted no time in planning for the big delivery. We received prior approval from the families to have Santa himself, deliver the presents.
We wanted to share our video with you, please see the link below. https://youtu.be/V1tSo4mFN8k
Thank you for the opportunity for us to be a part of the Adopt-A-Family Program. Happy Holidays!
Laura, Calvetti Ferguson
Ryder-Scott chose to participate in Houston Children's Charity's Adopt-A-Family program because we find it extremely rewarding. Being able to hand-deliver the gifts and meet the families is one of the best parts. You really get to see the excitement on the children's faces.  With this program, you actually get to talk to the families beforehand and ask what their wants or needs are and help make some of their Christmas wishes come true. We really got to know the whole family and you realize these children are no different than our own.
Susan Mitchell, Ryder-Scott
Thank you for your interest in participating in the Houston Children's Charity "Adopt-A-Family" program. Registration opens October 1st, 2019.  If you or your company/organization would like to become a sponsor for this years program please click here to register.