From Kaitlyn to Kiander: The Power of Giving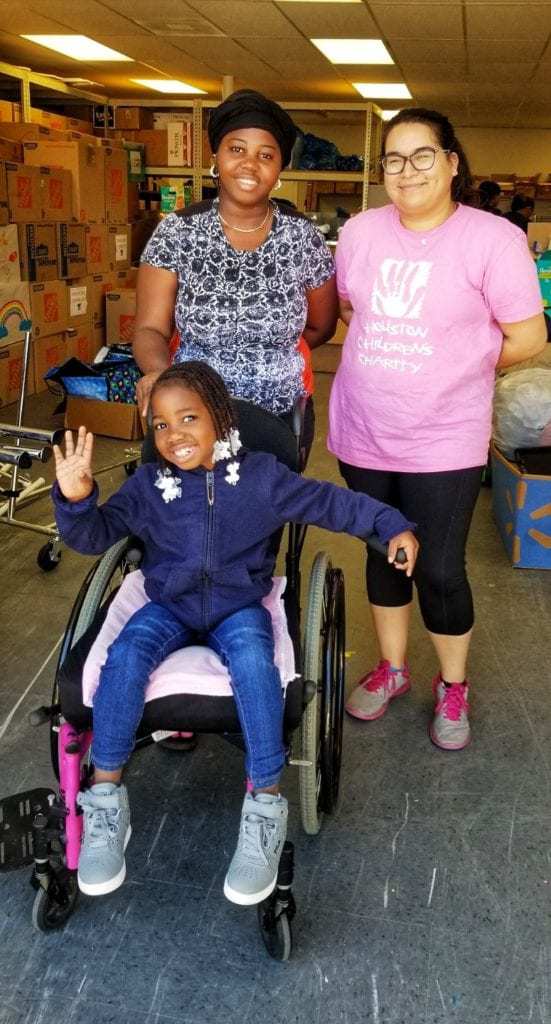 The following is a true story and a glorious reminder about how impactful giving can be.
When Dee-Dee and Tommy Fibich lost their 15-year-old granddaughter, Kaitlyn, to ALS years ago, it became their selfless wish to endow her mobility equipment to another child in need of it. Back in mid-October, they inquired with HCC Programs Manager, Rebecca Hernandez, if any of our children needed wheelchairs.
In an extraordinarily fortuitous moment of fate, HISD Wraparound Services Specialist, Diana Del Bosque, contacted our office THAT SAME WEEK looking for a wheelchair for a student who needed one. Her name is Kiander and she has been diagnosed with several medical conditions, including Cerebral Palsy and Developmental Delay. Her mother, Mirkis Alvarez, was forced to use an old stroller to be able to move her daughter around from place to place. On October 22nd, Kiander was overjoyed as she was gifted with Kaitlyn's gently-used wheelchair at the HCC Closet. The best part of all? It was pink, one of Kiander's favorite colors! Mirkis, had this to say, while holding back tears:
"I thank God for putting people in our road that are helping us to have a better lifestyle. My daughter needed a wheelchair for mobility and have better access to places that are complicated to go with a tiny, old stroller that we used for her. Since contacting Houston Children's Charity and because of the people who donated the wheelchair, our lives have changed for the better and we now have access to places that were difficult to get to before. Kiander is much more comfortable and secure than she was in that stroller. I am very grateful to the people who donated the wheelchair that has changed my daughter's life and my life as well. May God fill them with blessings."
"As someone that has lived my life in Houston, I am constantly amazed at the goodness in our community of those that help others," Mr. Fibich said. "It is impossible to measure the beneficial impact of the Houston Children's Charity in helping children in need. My wife and I applaud this great organization that allowed us, in a small way, to contribute to its wonderful and great mission."
Thank you to Tommy and Dee-Dee Fibich for your wonderful generosity and being miracles to Mirkis and Kiander. We wish you all the very happiest of holidays!